Mitsubishi Shogun Offers Four Wheels Drive Without Central Differential Locking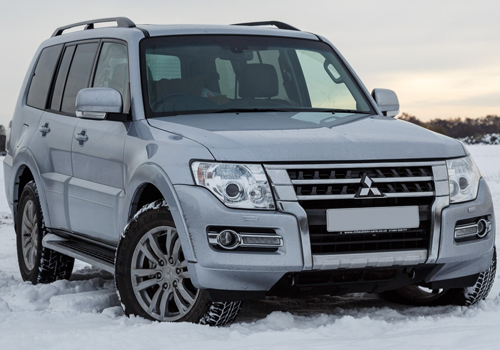 October 18, 2022
Over the years its performance improved and buyers kept loving this SUV
Three doors' SUVs have been popular in the first decade of this century and Mitsubishi Shogun is one of the most popular SUVs of the class. With the advent of many modern SUVs, these pure workhorses having off-road and towing capacity stopped appealing to buyers. This 4x4 vehicle is good at difficult tracks and weather conditions. Shogun in five doors body style is more popular for its easy access to the rear row. This L200 model of the vehicle with three doors option provides good variety to 4x4 SUV buyers. The long wheelbase model has a bigger cabin and offers generous space to occupants. On the other hand, the short wheelbase model offers desired styling and aggressive feel. Bigger 20-inch alloy wheels and alloy pedals with the use of carbon for the cabin make it impressive. Mitsubishi made changes to the vehicle for buyers' attraction but no major tech or mechanical advancement has been noticed. Barbarian model of the SUV offers leather upholstery, a navigation system and climate control so you get an upscale feel from this model. Off-road ability is not as good as that of other models of vehicle. The short wheelbase model of the Mitsubishi Shogun came with an auto gearbox and you drive with ease and freedom. 
Replacement Mitsubishi Shogun engines for sale
 are sold by old engine sellers. Mitsubishi Shogun offers four wheels drive without central differential locking. It allows the car to run in four wheels drive mode on urban roads though it is part-time four wheels drive vehicle. The Interior has good look and upscale feel so Mitsubishi deserves appreciation for offering a premium feel to this SUV.
The fourth-generation model of the vehicle became not only powerful but refined
The seats are comfortable but not very good for a long-distance ride. Front seats do not offer desired lumbar support. The vehicle is very much like other vehicles of the class so does not stands out but in its ability to serve few can match it. The long wheelbase model is a large vehicle and offers generous space to riders in the rear row. Forty years back the SUV was launched and was one of its kind with 4x4 drive mode and the ability to go off-road. The fourth-generation model of the vehicle became not only powerful but refined and comfortable too. Over the years its performance improved and buyers kept loving this SUV. It is big in size but Mitsubishi masterly keeps it easy to drive. Steering is precisely weighted and lets you manoeuvre the vehicle without much effort. Mitsubishi Shogun reconditioned engines are perfect in performance. Power steering makes it effortless for the driver and braking gives confidence to the person in the driving seat. Rear parking sensors have been offered to make parking easy for this big SUV. Reversing camera is also present to keep the viewing area at back and park the vehicle without striking a wall or any other vehicle. tight turning radius also helps to offer to adjust in limited space. All these facts keep drivers relaxed while driving this big SUV. Technology features improve the drive experience and enhance the ride experience of people inside the cabin.
Mitsubishi Shogun
is available only with one engine option, a 3.2-litre diesel unit. This diesel engine returns good fuel economy and gives you strong pulling muscle. These four cylinders unit is not refined so you have to live with its shortcomings.
The price of the vehicle is affordable, generous standard kit and strong build quality
The advent of new luxury SUVs did not change Mitsubishi's approach towards Shogun so the SUV remained very much the same. Ageing style and basis of the vehicle keep modern buyers away from this very capable vehicle but still many people think it is the right choice for their type of work and driving needs. This is why the SUV has not changed a great deal over the years. The price of the vehicle is affordable, generous standard kit and strong build quality make it very good for a variety of works. Mitsubishi did not change its power unit, though its specifications have been changing. Carbon emission, fuel economy and the paired gearbox do not remain constant. Sprint time remains around 10 seconds, which is not bad for a car of this size and you can push the speed pedal hard for quick acceleration but refinement suffers. The condition of second-hand Mitsubishi Shogun engines for sale could be different. The towing capacity of the SUV is one of the best in class as it can tow 3.5 tons. On the motorway, it progresses smoothly but not instantly so you have to show patience.
Traction and stability control is present
Mitsubishi Shogun is now available only with auto speed transmissions but earlier models with manual gearboxes are also present. driving aides are good to keep people protected. Traction and stability control is present for slopes and slippery conditions. Six airbags are also present to protect in case of a crash. Two fronts, two sides and two curtain airbags are present to meet the observed standards. Tyre pressure monitoring keeps you aware of air pressure. Advanced safety features in modern SUVs are missing in this vehicle. To compete with advanced large SUVs, Mitsubishi needs to change
Shogun
altogether otherwise only limited buyers will be present in the market for this aged vehicle. performance-based improved engines, modern styling for the exterior and tech features for the cabin of the vehicle are a must to compete with present-day SUVs.